AVN-DIO10 Dante® to 3G/HD/SD-SDI Embedder/De-Embedder
See Live X comments about the AVN-DIO10 at https://livex.tv/unboxing-sonifex-avn-dio10




Front Iso View

Rear Iso View

Front View

Rear View




AVN-DIOBT
Brackets & Belt Clip

AVN- DIOMT
Deskbar

AVN- DIOBT
Accessory

AVN- DIOMT
Accessory
AVN-DIO10 Dante® to 3G/HD/SD-SDI Embedder/De-Embedder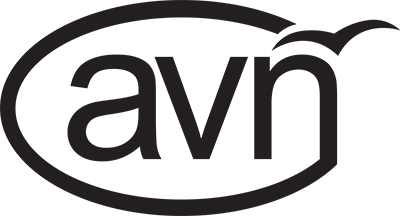 The easiest way to connect legacy SDI equipment to the Dante® network, the AVN-DIO10 can be used for simultaneous embedding and de-embedding. This simple plug and play audio/video interface provides a convenient and elegant method of connecting legacy 3G/HD/SD-SDI equipment to the Dante® AoIP audio network.
The AVN-DIO10 takes an SDI feed, de-embeds the 16 audio channels and places them on channels 1-16 of the Dante network, mapped using Dante Controller. It simultaneously takes the 16 input channels mapped to the device on Dante Controller and re-embeds them onto the SDI output.
Switches on the unit allow embedding of Dante channels onto the SDI output per channel pair and there are two modes of operation: Insert Mode enabled allows embedding to overwrite existing SDI audio selectively per channel pair. Insert Mode disabled clears any incoming audio channels on the SDI output and then allows selective embedding onto the SDI output per channel pair.
A Test Tone Mode allows 1kHz, 2kHz, 3kHz and 4kHz signals to be output on channels 1 to 4 respectively, for any group where embedding is enabled. This is so that downstream SDI audio outputs can be tested without the need of Dante sources.
It's powered using Power over Ethernet (PoE), using Neutrik EtherCON connectors, with primary and secondary ports for power and data redundancy. The AVN-DIO10 uses the latest Audinate Dante® chipsets so is AES67 and Dante Domain Manager® compliant.
There are front panel LEDs to indicate network clock status, SDI lock status, AoIP Primary and AoIP Secondary link status, PoE Primary power and PoE Secondary power active.
A web interface is available for firmware updates, status information and network settings.
Up to 3 of the AVN-DIO10 units can be rackmount in the 1U AVN-DIORK.
1 x 3G/HD/SD-SDI input.
1 x reclocked 3G/HD/SD-SDI output.
Dual redundant Primary and Secondary Dante network ports using Neutrik EtherCon® Ethernet connectors.
Powered via PoE (Power over Ethernet) with PoE dual redundancy.
Fully Dante compliant device.
AES67 compatible.
Dante Domain Manager compliant.
Web interface for configuration.
Clock, SDI Lock, PoE and Sync LEDs.
DIPSwitch selection of embed channel pairs.
Overwrite or insert into existing SDI audio groups.
Test tones available on embedded outputs.
SDI audio sample rate support at 48kHz.
All available Dante sample rates supported.
Sample rate conversion of audio between Dante and SDI.
Dante clock domain can be optionally synchronised from the SDI clock.
3 x units rackmount in the AVN-DIORK.
Technical Specification For AVN-DIO10

Parameter SDI Input

Input Impedance:
75Ω Unbalanced
SDI Supported Standards:
270Mbps SMPTE-259M-C (SD)
1.485 or 1.4835Gbps SMPTE-292M (HD)
2.97 or 2.967Gbps SMPTE-424M (3G)
Supported Video Formats:
525/59.94 (SMPTE-125M)
625/50 (ITU-R BT.656)
720p/23.98, 24, 25, 29.97, 30, 50, 59.94, 60 (SMPTE-296M)
1035i/59.94, 60 (SMPTE-260M)
1080i/50, 59.94, 60 (SMPTE-274M)
1080p/23.98, 24, 25, 50, 59.94, 60 (SMPTE-274M)
1080pSF/23.98, 24, 25, 29.97, 30 (RP-211)
1080i/50 (SMPTE-295M)
1080p/50 (SMPTE-295M)
Embedded Audio:
48kHz, synchronous
SMPTE-272M-ABC
SMPTE-299M
Supported Image Mapping:
SMPTE-425M-AB

Parameter SDI Output

Output Impedance:
75Ω Unbalanced
Alignment Jitter:
<0.2UI
Output Level:
800mV ±10%
Return Loss:
<15dB @ 1.5GHz
SDI Supported Standards:
Output follows input
Supported Video Formats:
Output follows input
Embedded Audio:
48kHz, synchronous
SMPTE-272M-C
SMPTE-299M

Network and AoIP

AoIP Standard:
Dante
Channels:
16 receive, 16 transmit
Flows:
16 receive, 16 transmit
Sample Rates:
44.1kHz, 48kHz, 88.2kHz, 96kHz, 176.4kHz, 192kHz
Encoding:
PCM 16, PCM 24, PCM 32
AES67 Support
Yes
Connectivity:
2 x etherCON (RJ45 compatible)
Speed:
1Gbps or 100Mbps
Network Modes:
Switched or redundant
Dante Domain Manager Ready:
Yes
Clock Source:
Internal (PTP Leader), Network PTP Leader or from SDI input (Sync to External)

PoE Power

Standard
802.3af
Redundancy
Yes
Class
0
PD Power Range
0.44 W to 12.94 W
Typical PSE Power Usage
6 W
Max PSE Usage
15.4 W

Equipment Type

AVN-DIO10:
Dante to 3G/HD/SD-SDI Embedder/De-Embedder

Physical Specification

Dimensions (Raw):
14.0cm (W) x 13.6cm (D) x 4.2cm (H)
5.5" (W) x 5.4" (D) x 1.7" (H)
Dimensions (Boxed):
17.8cm (W) x 17cm (D) x 5.6cm (H)
7.0" (W) x 6.7" (D) x 2.2" (H)
Weight:
Nett: 0.36kg Gross: 0.55kg
Nett: 0.79lbs Gross: 1.21lbs

Accessories

AVN-DIOBT
AVN-DIOMT
AVN-DIORK

AVN-DIO Large Unit Belt Clip Kit
AVN-DIO Large Unit Underdesk Mount
AVN-DIO 1U 19" Rack Kit (5 x Small DIO or 3 x Large DIO)