AVN-DIO12 Dual Mono Microphone Input to Dante
Shipping Now



Front Iso View

Rear Iso View

Front View

Rear View




AVN-DIOBT
Brackets & Belt Clip

AVN- DIOMT
Deskbar

AVN- DIOBT
Accessory

AVN- DIOMT
Accessory
AVN-DIO12 Dual Microphone Input to Dante® with Mic Gain Converter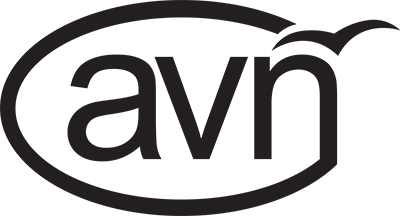 The AVN-DIO12 is a dual microphone input to Dante® converter with adjustable mic gain in the Sonifex DIO range of Dante® input/output devices. It's effectively 2 x AVN-DIO09 units in a single chassis, still offering A/D circuitry with a world-class E.I.N. of 129dB.
It features 2 balanced analogue XLR inputs and one Neutrik etherCON connector for direct connection to a Dante® AoIP network. Each mic has coarse and fine gain controls, high pass filter, phantom power & tri-color level LED and can be routed via Dante Controller to any Dante receiver.
It's powered using Power over Ethernet (PoE), using a Neutrik etherCON connector for power and data redundancy. The AVN-DIO12 uses the latest Audinate Dante chipset so is AES67 and Dante Domain Manager compliant.
Gain Adjustment
The AVN-DIO012 has coarse and fine mic gain for each microphone input. The coarse gain is set using the toggle switch, which provides 20dB/50dB of gain. The fine gain can be set using a trimmer adjustment tool, or small flat blade screwdriver, and adds between 0dB and 36dB of additional gain.
High Pass Filter
Each microphone input has an on/off toggle switch which turns the high pass filter on or off. When enabled, it acts on frequencies below 125Hz at a roll-off of 6dB/octave.
Phantom Power
Phantom power is enabled/disabled via a toggle switch on the front panel for each microphone input. When enabled, a 48V DC supply is provided to power an appropriate microphone. The red LED next to each input will illuminate to indicate phantom power is enabled.
Audio Level LED
To help you set the mic gain, a level LED is provided on the front panel for each microphone input to display the audio level being sent to the Dante network. The indicator thresholds are as follows:
Off: Level is under -38dBFS (-20dBu)
Green: Level is between -38dBFS (-20dBu) and -18dBFS (0dBu)
Amber: Level is between -18dBFS (0dBu) and -10dBFS (+8dBu)
Red: Level is above -10dBFS (+8dBu)
Note: When using a phantom powered microphone, it may be necessary to earth the unit using the rear panel earth tag to eliminate mains hum.
2 x balanced microphone input on XLR sockets with latch locks.
Neutrik EtherCon® Ethernet connection.
Single turn pots setting fine mic gain (0dB – 36dB).
Coarse mic gain switches (+20db/+50dB).
High pass filter on/off switches.
Ultra-high quality, wide dynamic range A/D conversion.
Phantom power on/off switches.
Phantom power LED indicators.
Level LED indicators.
Fully Dante compliant device.
AES67 compatible.
Dante Domain Manager compliant.
Powered via PoE (Power over Ethernet).
Clock, PoE and Sync LEDs.
3 x units rackmount in the AVN-DIORK.
Technical Specification For AVN-DIO12

Microphone XLR Input Pin-out

Pin
Function
1
Chassis Ground
2
Input Phase
3
Input Non Phase

Microphone Input - XLR

Input Impedance:
2.2kΩ balanced
Maximum Input Level:
-68dBu (max gain) to -8dBu (min gain)
Gain:
Adjustable 20dB to 86dB
Frequency Response:
20Hz to 20kHz, +0/-0.5dB (ref 1kHz)
High Pass Filter Response:
Fc = 125Hz @ 6dB per octave
THD+N:
<0.01%, -32dBu input, 40dB gain, 20Hz to 20kHz, 20kHz BW
E.I.N.:
129dBu, 20kHz BW, max gain, Rs=200Ω
Common Mode Rejection:
>60dB @ 1kHz
Phantom Power:
+48V ± 4V

Network and AoIP

AoIP Standard:
Dante
Channels:
2 transmit
Flows:
2 transmit
Sample Rates:
44.1kHz, 48kHz, 88.2kHz, 96kHz
Encoding:
PCM 16, PCM 24, PCM 32
AES67 Support
Yes
Connectivity:
EtherCON (RJ45 compatible)
Speed:
100Mbps
Dante Domain Manager Ready:
Yes
Clock Source:
Internal (PTP Leader) or Network PTP Leader

PoE Power

Standard
802.3af
Class
0
PD Power Range
0.44 W to 12.94 W
Typical PSE Power Usage
TBD
Max PSE Power Usage
15.4 W

Equipment Type

AVN-DIO12:
Dual Microphone Input to Dante® with Mic Gain

Physical Specification

Dimensions (Raw):
14.0cm (W) x 13.6cm (D) x 4.2cm (H)
5.5" (W) x 5.4" (D) x 1.7" (H)
Dimensions (Boxed):
17.8cm (W) x 17cm (D) x 5.6cm (H)
7.0" (W) x 6.7" (D) x 2.2" (H)
Weight:
Nett: 0.5kg Gross: 0.7kg
Nett: 1.1lbs Gross: 1.4lbs

Accessories

AVN-DIOBT
AVN-DIOMT
AVN-DIORK

AVN-DIO Large Unit Belt Clip Kit
AVN-DIO Large Unit Underdesk Mount
AVN-DIO 1U 19" Rack Kit (5 x Small DIO or 3 x Large DIO)