AVN-DIO20 Dante® to MADI AES3 64 Channel I/O Converter
Shipping Now



Front Iso View

Rear Iso View

Front View

Rear View




AVN-DIOBT
Brackets & Belt Clip

AVN- DIOMT
Deskbar

AVN- DIOBT
Accessory

AVN- DIOMT
Accessory
AVN-DIO20 Dante® to MADI AES3 64 Channel I/O Converter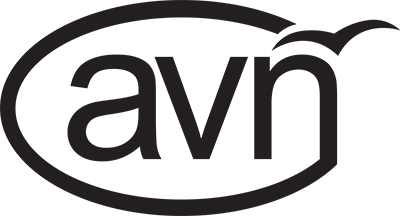 The AVN-DIO20 is a MADI and AES3 to Dante bridging device allowing MADI to connect bidirectionally with AoIP, together with 8 stereo channels of AES3. This simple plug and play audio interface provides a quick and convenient method of connecting legacy MADI equipment to the Dante AoIP audio network.
The AVN-DIO20 takes a MADI feed, sample rate converts all 64 channels and places them on the Dante network, mapped using Dante Controller. It simultaneously takes the 64 channels mapped to the device on Dante Controller, optionally sample rate converts them, and transmits them on the MADI output. The unit accepts 8 stereo AES3 inputs and place them on the Dante network, replacing 16 of the selected MADI input channels. The unit also sends 8 stereo AES3 outputs which can be sourced from the Dante channels, in blocks of 16.
The unit accepts MADI signals from either a compatible SFP module or the coaxial BNC input. The input can be selected via the built-in web GUI or, by default, it will use an SFP module if it is inserted into the unit. The coaxial BNC output is disabled while the SFP is in use. There is also an additional automatic failover mode which, when selected, allows for automatic switching to the BNC input when the SFP signal is lost, providing glitch free audio redundancy.
The MADI output audio can be clocked from either the Dante network, in which case the output SRC is bypassed, or the recovered clock obtained from the MADI input.
It's powered using Power over Ethernet (PoE), using Neutrik EtherCON® connectors, with primary and secondary ports for power and data redundancy. The AVN-DIO20 uses the latest Audinate Dante™ chipsets so is AES67 and Dante Domain Manager™ compliant.
There are front panel LEDs to indicate network clock status, AoIP Primary and AoIP Secondary link status, PoE Primary power and PoE Secondary power active. In addition there are 8 AES3 input lock status LEDs and an active MADI input indication.
A web interface is available for network and device settings, status information and firmware updates.
Up to 3 of the AVN-DIO20 units can be rackmount in the 1U AVN-DIORK.
1 x AES10 MADI input and output, on either SFP or coaxial BNC (up to 64 channels of MADI I/O).
8 x stereo AES3 inputs and outputs on 2 x 25-way D-types, using AES59 digital pinout.
Dual redundant Primary and Secondary Dante network ports using Neutrik EtherCON® Ethernet connectors.
Powered via PoE (Power over Ethernet) with PoE dual redundancy.
Fully Dante compliant device.
AES67 compatible.
Dante Domain Manager compliant.
Web interface for configuration.
Clock, PoE, Network link, AES3 input lock and MADI active LEDs.
MADI 64, 56, 28 and 16 channel support and audio sample rate support up to 192kHz.
MADI SFP to BNC automatic failover.
All available Dante sample rates supported (44.1kHz to 192kHz).
Sample rate conversion of audio between Dante and MADI/AES3.
Dante clock domain can be optionally synchronised from the MADI source.
3 x units rackmount in the AVN-DIORK.
Technical Specification For AVN-DIO20

MADI I/O

BNC Input & Output Impedance:
75Ω Unbalanced
MADI Input Sample Rate/Channels:
48kHz – 56/64 channels
96kHz – 28/32 channels
192kHz – 16 channels
MADI Output Sample Rate/Channels:
Follow input,
Dante sample rate
Connections:
Coaxial BNC input and output
SFP - LVDS SFP 100MB/s

AES3 I/O

Input& Output Impedance:
110Ω Balanced
Sample Rates:
32 – 192kHz
Connections:
8 x stereo AES3 inputs and outputs on 2 x 25-way D-types using AES59 pinout

Network and AoIP

AoIP Standard:
Dante
Channels:
64 receive, 64 transmit
Flows:
32 receive, 32 transmit
Sample Rates:
44.1kHz, 48kHz, 88.2kHz, 96kHz, 176.4kHz, 192kHz
Encoding:
PCM 16, PCM 24, PCM 32
AES67 Support:
Yes
Connectivity:
2 x etherCON (RJ45 compatible)
Speed:
1Gbps or 100Mbps
Network Modes:
Switched or redundant
Dante Domain Manager Ready:
Yes
Clock Source:
Internal (PTP Leader), Network PTP Leader or from MADI input)

PoE Power

Standard
802.3af
Redundancy
Yes
Class
0
PD Power Range
0.44 W to 12.94 W
Typical PSE Power Usage
6.1W
Max PSE Usage
15.4 W

Equipment Type

AVN-DIO20:
Dante to MADI/AES3 64 channel I/O converter

Physical Specification

Dimensions (Raw):
14.0cm (W) x 13.6cm (D) x 4.2cm (H)
5.5" (W) x 5.4" (D) x 1.7" (H)
Dimensions (Boxed):
17.8cm (W) x 17cm (D) x 5.6cm (H)
7.0" (W) x 6.7" (D) x 2.2" (H)
Weight:
Nett: 0.5kg Gross: 0.9kg
Nett: 1.1lbs Gross: 2.0lbs

Accessories

AVN-DIOBT
AVN-DIOMT
AVN-DIORK:
CBL-D25-4XI4XO:
CBL-D25-D25
AVN-DIO Large Unit Belt Clip Kit
AVN-DIO Large Unit Underdesk Mount
AVN-DIO 1U 19" rack kit (5 x small DIO or 3 x large DIO)
AES3 balanced cable, DB25 to 4 x XLR3M and 4 x XLR3F, 3m
AES3 balanced cable, DB25 to DB25, 3m