AVN-AESIO8 8 AES3 Input, 8 AES3 Output Dante® Interface, PoE



Iso View

Front View

Rear View
AVN-AESIO8 8 AES3 Input, 8 AES3 Output Dante® Interface, PoE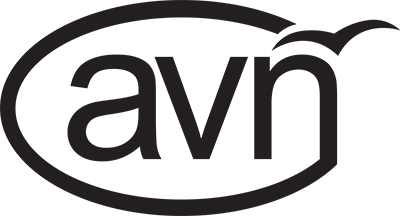 The AVN-AESIO8 audio converter and interface converts up to eight digital stereo AES3 inputs and eight digital stereo AES3 outputs to and from the Dante Audio-over-IP networking standard. Each input can accept sample rates from 32kHz to 192kHz, which will be sample rate converted to the Dante system sample rate. A valid input signal is confirmed by front panel AES3 lock LEDs for each input. All outputs follow the Dante system sample rate.
This cost effective 1U rack-mount unit offers an easy solution for AV professionals and system integrators. It is simple to configure and operate, with all set-up done via the standard Dante Controller software and power via PoE (Power Over Ethernet).
All digital AES3 inputs and outputs are on high-quality Neutrik XLR connectors and there are front panel status/confidence LEDs for PoE, Link and Clock.
8 x balanced digital stereo AES3 inputs on XLR, supporting input rates of 32kHz – 192kHz.
Sample rate conversion on physical inputs to Dante system sample rate.
8 x balanced digital stereo AES3 outputs on XLR, output rate matches Dante system sample rate.
1 x RJ45 Dante connector (1Gb/s Ethernet Port).
PoE, Link, and Clock LED status indicators.
AES3 Lock LED status indicators for each input.
Configuration using Dante Controller.
AES67 operation & Dante Domain Manager compliant.
Powered by PoE.
1U 19" rack-mount form factor.
(The AVN-AESIO8R is available with dual redundant Ethernet ports).
Technical Specification For AVN-AESIO8

Network and AoIP

AoIP Standard:
Dante
Number of Channels:
16 receive, 16 transmit
Number of Streams:
16 receive, 16 transmit
Sample Rates:
44.1kHz, 48 kHz, 88.2kHz, 96kHz, 176.4kHz or 192kHz
Format:
Linear PCM, 16, 24 or 32 bit
AES67 Support:
Yes
Connectivity:
1 x RJ45
Speed:
1Gbps or 100Mbps
Dante Domain Manager Ready:
Yes

AES3 Input Specifications

Input Impedance:
110Ω balanced
Support Input Rates:
32kHz, 44.1kHz, 48kHz, 88.2kHz, 96kHz, 176.4kHz and 192kHz (sample rate converted to Dante system sample rate).
Signal Level:
AES3-2009 compliant
Bit Depth:
Up to 24bits

AES3 Output Specifications

Output Impedance:
110Ω balanced
Support Output Rates:
44.1kHz, 48kHz, 88.2kHz, 96kHz, 176.4kHz and 192kHz (set as per Dante system sample rate).
Signal Level:
AES3-2009 compliant
Bit Depth:
24 bits

Balanced Line Input XLR Pinout

Pin
Function
1
Chassis Ground
2
Input Positive
3
Input Negative

Balanced Line Output XLR Pinout

Pin
Function
1
Chassis Ground
2
Output Positive
3
Output Negative

PoE Power

Standard
802.3af
Class
0
PD Power Range
0.44 W to 12.94 W
Typical PSE Power Usage
6W
Max PSE Power Usage
15.4 W

Equipment Type

AVN-AESIO8:
8 AES3 Input, 8 AES3 Output Dante® Interface, PoE

Physical Specification

Dimensions (Raw):
48cm (W) x 11cm (D) x 4.3cm (H)(1U)
19" (W) x 4.3" (D) x 1.7" (H)
Weight:
Nett: 1.0kg Gross: 1.5kg
Nett: 2.2lbs Gross: 3.3lbs