Catagory: Meters
Reference Monitor Meters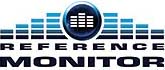 The new Reference Monitor Meters are a range of freestanding and 1U
rack-mount precision meters offering accurate, high resolution metering of between 1 and 4 stereo audio sources.
Each stereo source is auto-switching between either analogue or digital AES/EBU format with sample rates up to 192kHz accepted.
The level of each stereo source is displayed on a pair of bright, multi-coloured bargraph meters, with a large choice of accurately modelled scales/responses to suit different applications and local preferences. Separate 5 LED phase meters indicate channel correlation or phase error conditions, and additional LEDs show digital input lock and audio level alarm status.
On the rear panel, open-collector alarm outputs provide hardware indication of audio under-level or silence, audio over-level, sustained phase errors above 90 degrees and digital source lock.
Status monitoring and unit ID functions, plus firmware updates to add extra functionality, are all accessible remotely via a RS232 connection in conjunction with Sonifex SCi software.
All Reference Monitor Meters operate from global mains voltages (85-264V AC, 47-63Hz) without adjustment.
Available Scales/Ballistics For All Meters
There are nine scales available with accurately modelled ballistics. Each stereo meter pair can have a different scale, set via a DIPswitch on the rear panel. A complete set of overlays are provided per stereo meter so that you can define the scale(s) that you need:
| | |
| --- | --- |
| 1. Dual BBC PPM + standard VU | |
| 2. BBC PPM | IEC60268-10 11a |
| 3. EBU PPM | IEC60268-10 11b |
| 4. Nordic PPM | IEC60268-10 1 |
| 5. AES/EBU | IEC60268-18 digital PPM |
| 6. DIN PPM | DIN45406 |
| 7. Standard VU | IEC60268-17 |
| 8. Extended VU | IEC60268-17 |
| 9. German | |
There are eight Reference Monitor Meters.
Reference Monitor Meters

RM-M2F53
2 Stereo 53 Segment Meters, Free-Standing
more >>
Please Note: All other meters have been discontinued