AVN-AIO8R 8 Input, 8 Output, Dual Dante® Interface, PoE



Iso View

Front View

Rear View
AVN-AIO8R 8 Input, 8 Output, Dual Dante® Interface, PoE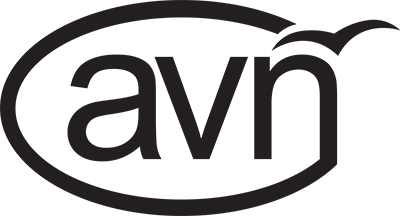 The AVN-AIO8R audio converter and interface converts up to eight analogue inputs and eight analogue outputs to and from the Dante Audio-over-IP networking standard. Dual Ethernet ports allow the unit to operate in redundant mode, ensuring audio routing is maintained in the event of loss of link on either of the network connections.
This cost effective 1U rack-mount unit offers an easy solution for AV professionals and system integrators. It is simple to configure and operate, with all set-up, except line-up levels, done via the standard Dante Controller software and power via PoE (Power Over Ethernet).
All analogue inputs and outputs are on high-quality Neutrik XLR connectors and there are front panel status/confidence LEDs for PoE, Link, and Clock. Global 0dBFS line-up can be set to +12dBu, +18dBu or +24dBu to meet your specific requirement via the front panel recessed toggle switch.
8 x balanced analogue inputs on XLR.
8 x balanced analogue outputs on XLR.
Adjustable global 0dBFS line up selection (+12dBu/+18dBu/+24dBu).
2 x RJ45 Dante connectors (1Gb/s Ethernet Port) allowing the unit to operate in redundant or switched modes.
PoE and Link LED status indicators for each Ethernet port.
Clock LED status indicator.
Configuration using Dante Controller.
AES67 operation & Dante Domain Manager compliant.
Powered by PoE on either (or both) Ethernet ports, offering power supply redundancy.
1U 19" rack-mount form factor.
(The AVN-AIO8 is available with a single Ethernet port).
Technical Specification For AVN-AIO8R

Network and AoIP

AoIP Standard:
Dante
Number of Channels:
8 receive, 8 transmit
Number of Streams:
8 receive, 8 transmit
Sample Rate:
44.1kHz, 48 kHz, 88.2kHz, 96kHz, 176.4kHz or 192kHz
Format:
Linear PCM, 16, 24 or 32 bit
AES67 Support:
Yes
Connectivity:
2 x RJ45
Speed:
1Gbps or 100Mbps
Network Modes:
Switched or redundant
Dante Domain Manager Ready:
Yes

Audio Input Performance Specifications

Parameter
Line Input
Input Impedance:
>20kΩ balanced
0dBFS line-up:
User Selectable +12dBu/+18dBu/+24dBu balanced
Frequency Response:
20Hz to 20kHz, +0/-0.2dB
THD+N:
<-110dBFS, -30dBFS, 20Hz to 20kHz, 20kHz BW
Noise:
-110dBFS, 20kHz BW, Rs=200Ω
Crosstalk:
<-100 dB
Common Mode Rejection:
>60dB @ 1kHz

Audio Output Performance Specifications

Parameter
Line Output
Output Impedance:
<50Ω balanced
0dBFS line-up:
User Selectable +12dBu/+18dBu/+24dBu balanced
Frequency Response:
20Hz to 20kHz, +0/-0.5dB
THD+N:
<-107dBFS, -30dBFS, 20Hz to 20kHz, 20kHz BW
Noise:
-107dBFS, 20kHz BW
Crosstalk:
<100dB

Balanced Line Input XLR Pinout

Pin
Function
1
Chassis Ground/Screen
2
Input Phase/Positive
3
Input Non-Phase/Negative

Balanced Line Output XLR Pinout

Pin
Function
1
Chassis Ground/Screen
2
Output Phase/Positive
3
Output Non-Phase/Negative

PoE Power

Standard
802.3af
Class
0
PD Power Range
0.44 W to 12.94 W
Typical PSE Power Usage
7.5 W
Max PSE Power Usage
15.4 W

Equipment Type

AVN-AIO8R:
8 Input, 8 Output, Dual Dante® Interface, PoE

Physical Specification

Dimensions (Raw):
48cm (W) x 11cm (D) x 4.3cm (H)(1U)
19" (W) x 4.3" (D) x 1.7" (H)
Weight:
Nett: 1.1kg Gross: 1.6kg
Nett: 2.4lbs Gross: 3.5lbs