Press Release
Announcing the New AVN-DIO20 Dante® to MADI AES3 64 Channel I/O Converter
26 March 2021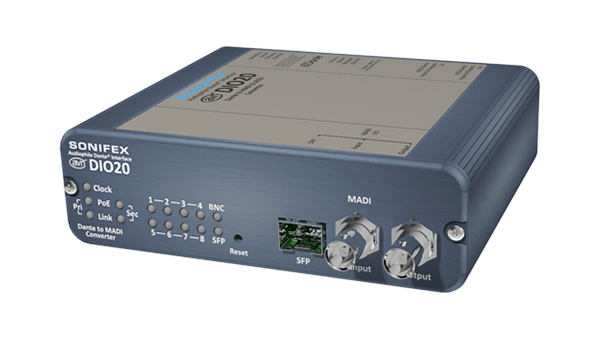 Sonifex are pleased to announce the release of the new AVN-DIO20, a MADI and AES3 to Dante bridging device allowing MADI to connect bidirectionally with AoIP, together with 8 stereo channels of AES3. This elegant PoE audio interface provides a simple method of connecting legacy MADI interfaces on SFP and BNC MADI connections, to the Dante AoIP audio network.
It takes a MADI feed, sample rate converts all 64 channels and places them on the Dante network, mapped using Dante Controller. It simultaneously takes the 64 channels mapped to the device on Dante Controller, optionally sample rate converts them, and transmits them on the MADI output.
The unit accepts 8 stereo AES3 inputs and place them on the Dante network, replacing 16 of the selected MADI input channels. The unit also sends 8 stereo AES3 outputs which can be sourced from the Dante channels, in blocks of 16.
-end-