Press Release
Sonifex AVN-AH8 Dante® Headphone Amplifier Now Shipping
05 June 2023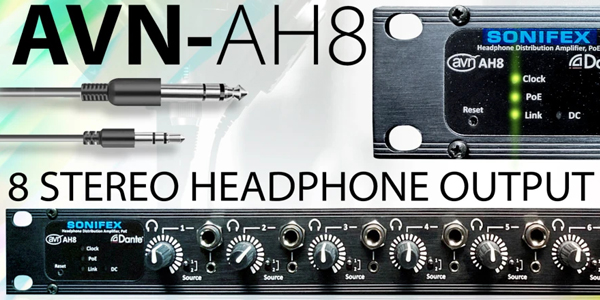 The AVN-AH8 multi-channel Dante headphone amplifier, premiered at NAB and shown at MPTS, is now shipping. The AVN-AH8 is a 1U rack-mount which distributes 2 sets of stereo audio to up to 8 different sets of headphones, fed from the Dante AoIP network. A typical application might be to provide common headphone feeds for guests in a radio studio, coming directly from the AoIP network.

Marcus Brooke, Managing Director, commented:
"The response we've had for this product from customers at NAB & MPTS has been outstanding. There aren't many Dante based headphone amplifiers on the market, so combined with our AVN-DIO03 single headphone amplifier, we've got a couple of Dante solutions to add to our existing collection of passive and active analogue headphone amplifiers.

Each output has front panel unbalanced 1/4" & 3.5mm jack sockets and a rotary level control. The front panel potentiometers adjust the headphone volumes from mute (fully anticlockwise) to 0dB of gain when fully clockwise. This is useful if the Dante stream level is low or high and requires adjusting.

There are 8 parallel 1/4" jacks on the rear panel, for ease of wiring if the unit is installed in an enclosed rack.

Each of the 8 professional headphone outputs can each select between 2 stereo Dante sources which are routed via Dante controller. The level of each stereo Dante stream can be adjusted ±12dB using one of the two front panel rotary controls. The unit supports AES67 operation and is Dante Domain Manager compliant.
Head of Sales Richard Butlin, said: "Continuing our use of Dante, it's a multi-output headphone amplifier with front panel controls and the choice of 2 inputs, for each output. Unique in design it offers a simple solution for talks areas and theatres/venues where headphone monitoring is required.".


The new Sonifex AVN-AH8

The AVN-AH8 front panel contains a power (PoE) LED, a DC LED, a network link status LED, and a clock LED. A recessed reset switch is also provided. The unit is powered via Power over Ethernet (PoE) or a 12VDC input via a locking 2.5mm DC Input, 2A minimum rating.

The AVN-AH8 is available in July 2023.
For more information on the Sonifex AVN-AH8, please click here >
-end-