Audio Transcription Systems
Please Note: This Product has been discontinued
D:Scribe DS-UP2 Standalone Upgrade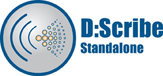 The D:Scribe transcription systems consist of two products - D:Scribe Standalone is a package of PC transcription software together with a 3 pedal foot-controller, for simple, fast and effective transcription of pre-recorded audio files. D:Scribe Client & Server software can be used where you are recording using multiple Net-Logs and you want a database system to store, retrieve and transcribe audio.
Related Links:
D:Scribe Standalone >
V1.0 to V2.0 Upgrade Features
The V2.0 software has a host of new features, including dongle based
licencing and the following:
DVD/VOB playback with a Video Panel to the left of transcript space.
New trackbar allows start and stop marks.
CD Ripper can optionally rip in WMA format.
Support for USB footpedal.
Start Bar caption can optionally display Play Position, Recorded Time or Time Remaining.
Play Speed – fast, normal, slow with constant pitch and many more features.