Prodys Products



Iso View

Rear View

Diagram
Quantum 3U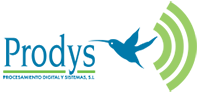 Prodys Quantum 3U Overview
Quantum 3U is an IP Multicodec in a 3U rack, which can house up to 14 IP audio codec modules over IP providing up to 28 stereo links.
Quantum multicodecs increase the number of audio links as would be achieved combining many Quantum ST codec within a reduced space, inheriting all its key features such as its widest range of audio compression modes, stability, flexibility and easiness to use.
Each Quantum 3U module has two Ethernet ports allowing bandwidth aggregation (Bonding) and redundant transmission (Diversity). A third Ehernet port is used to support individual remote control of each audio module via embedded web server or centralized management via ProdysControlPlus.
Optional Dante/AES67 or Ravenna/AES67 modules are available to provide an interface for uncompressed digital audio over a single Ethernet cable replacing all the individual audio inputs and outputs.
Category: Prodys Products.
Product Function: IP Multicodec in a 3U rack
Typical Applications: Used to house up to 14 IP audio codec modules over IP providing up to 28 stereo links.
Features:
Audio:
Analog and Digital AES/EBU stereo audio I/O.
Optional Dante/AES67 or Ravenna/AES67 modules to provide an uncompressed digital audio interface in a single Ethernet cable. (Ravenna/AES67 AoIP is mandatory for 15…28 stereo link support).
Support Mpeg1/2 LayerII, AAC, apt-X, G711/G722, OPUS and PCM.
Communications

:
2 x Ethernet interfaces to make bonding or diversity transmissions. This enables streaming of STL-grade audio quality over inexpensive links.
Additional LAN Management port to split audio and control data flows.
Call facilities: Auto-redial, call scheduler and log systems.
IP Compatibily: support SIP/SDP/RTP/STUN protocols according the standard defined by EBU's N/ACIP group.
Operation

:
Configurable and scalable system: Up to 14 IP single or double stereo modules. Cards can be hot swapped for servicing or maintenance.
Each module can be controlled remotely from its Web Page or from ProdysControlPlus.
Automatic detection of the encoding mode used by the remote unit.
Independent encoding/decoding operation.
User Access Control to define different access restrictions in a per user basis.
Configuration presets to define different configurations for all or some specific parameters.
Alarms: Real Time alarms management through SNMP traps, GPO and e-mails.
One user configurable general purpose input-output (GPIO). The input can be set up to control audio inputs or reset alarms, and the output can be configured to monitor different parameters.
Serial Port to transmit/receive auxiliary data along with the audio.
Local or remotely (TCP/IP) upgrading of one or several units at once using the same utility. Factory software upgrades can be downloaded.
AC or DC Redundant Power Supply.
Technical Specification For Quantum 3U

Audio Inputs /Outputs

Analog Audio:
Stereo I/O.
24 bits A/D and D/A converters.
15 way D type connector electronically balanced.
Digital Audio:
Stereo Audio I/O.
AES/EBU. Up to 24 bits.
Automatic rate adaptation.
9 way D type connector.
External clock input.

Dante/AES67 Audio & Ravenna/AES6

Dante/AES67 or Ravenna/AES67 audio inputs/outputs:
Optional

Compression

Audio Compression:
PCM (16,20 & 24 bits)
G722, G711 A/μ Law
MPEG 1,2 Layer II
OPUS
Enhanced and Standard apt-X™
MPEG AAC LC, LD, ELD & HE (optional).

LAN

LAN:
2 x 10/100/1000 BaseTx Ethernet, RJ45 connector.
1 x Ethernet switch to concentrate all the management traffic in a single port
TCP/UDP/IP, Multicast & Unicast.
SIP/SDP/RTP/STUN comprising Tech 3326 & 3368 EBU N/ACIP standard.
FEC as per RFC 2733.
Active Packet Recovery.
2 x Ethernet interfaces for Bonding or Diversity with BRAVE protocol by Prodys.
Prodys NAT Traversal Streaming Protocol.
SIP Diversity according N/ACIP EBU Tech 3368.
Automatic Jitter buffer to avoid audio dropouts, compensating for up to 20 seconds of jitter in the IP connection. compensating for up to 10 seconds of jitter in the IP connection.

Alarms

Alarms:
Monitoring of system parameters, links and decoder.
Notification via e-mail, SNMP traps and GPO.
NVRAM memory to store alarm information.

GPIO and Ancillary Data

GPIO and Ancillary Data:
1 x contact closure input.
1 x open collector output.
User configurable. Remote contact closures.
RJ45 connector on front panel.

Equipment Type

Quantum 3U:
IP Multicodec in a 3U rack

Physical Specification

Dimensions (Raw):
48.3cm (W) x 36.3cm (D) x 13.3cm (H)(1U)
19" (W) x 14.3" (D) x 5.3" (H)