Prodys Products



Iso View

Top View

End/Top View
Quantum Lite - Handheld audio IP codec with 3G/4G bonding capabilities - taking the task in hand!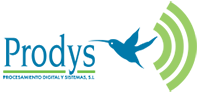 A new lightweight & robust, high-performance handheld audio IP codec with Opus & apt-X as standard.
Quantum Lite Handheld Audio IP Codec & Studio Base Station Overview
Quantum Lite is Prodys' new handheld audio codec for professionals having no equal in the broadcast market. This device enables extremely reliable field audio contributions over wireless networks by means of concurrent use of two UMTS /LTE network connections.
Using the Quantum Lite in a Live operation offers the user:
No risk when double SIM operation is enabled.
No risk as there is with incoming GSM calls disturbing your smartphone codec app.
No risk as a large battery capacity is provided.
No risk as professional XLR cabled microphones can be used directly.
No risk as input/output level & cue balance controls are high quality professional pots & knobs.
Quantum Lite can combine up to 4 up-link IP connections: 2x UMTS/LTE, 1x Ethernet & 1x Wifi (optionally) for any scenario.
This device also turns "off-line" jobs into easy tasks with its embedded audio recording and transfer.
The Quantum Lite is exactly right for reporting journalists who take the task to hand seriously.
Category: Prodys Products.
Product Function: Handheld audio IP codec with 3G/4G bonding capabilities.
Typical Applications: Hand-held reporter codec.

Features:
Audio:
Low delay audio encoding with Opus & Aptx.
XLR mic/line input. Headphone output.
2nd stereo audio input /output.
3 x push-lock audio controls for mic, local headphone and return signal control.
Communications

:
Inherits world-class IP technology from the Prodys Audio/Video codec family (BRAVE protocol) with full error correction method and bonding.
Double UMTS /LTE operation. (Double SIM registration).
1 x Ethernet interface.
Wi-Fi interface (Optional).
Operation

:
Hand-held reporter codec.
User friendly interface via touch panel. Intuitive handling.
Large autonomy battery.
Audio recording on SD memory, playback and file transfer.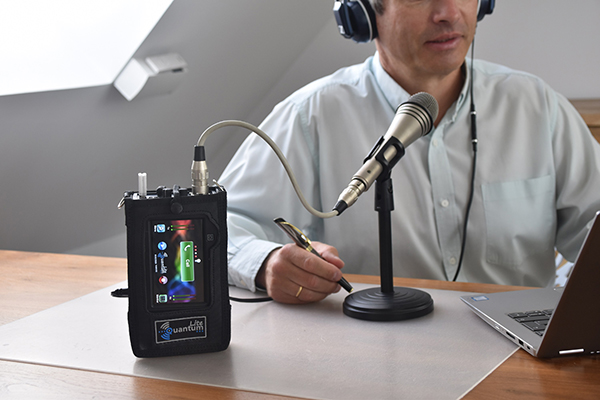 Technical Specification For Quantum Lite

User Interface

Touch Panel:
Capacitive Touch Panel: 95 x 55mm
Web Control:
Remote Web Control

Audio Inputs /Outputs & Controls

Microphone:
XLR microphone/line input with phantom
Headphone:
Headphone mini jack output 3.5mm.
Line Level Stereo Input:
Line level stereo input mini jack input 3.5mm.
Line Level Stereo Output:
Line level stereo output mini jack input 3.5mm.
Stereo Audio:
Stereo audio USB input /output port.
Push-Lock Controls:
3 x Push-lock controls for mic, local headphone and return signal control.

Communication

Micro SIM Slots:
2 x integrated UMTS /LTE modems (micro SIM slots)
RJ45 Connector:
Ethernet port (10/100BaseTx Ethernet, RJ45 connector)
USB Port:
USB port (Wi-Fi port)
BRAVE Protocol:
BRAVE protocol with bonding or diversity
Audio Compression:
OPUS & Aptx audio compression
Micro SD Slot:
Audio recording on removable SD memory (micro SD slot)

Power Supply & Battery

VDC Input:
Operation & charging
Li-Pol Battery:
Autonomy 4h + optional spare batteries

Equipment Type

Quantum Lite:
Handheld audio IP codec with 3G/4G bonding capabilities

Physical Specification

Dimensions (Raw):
17.7cm (W) x 9.3cm (D) x 4.3cm (H)(1U)
7" (W) x 3.7" (D) x 1.7" (H)
Weight:
Nett: 0.58kg
Nett: 1.28lbs